We all love our family, but let's be honest, our cats take the top spot, right? Which is why it's only right we spend the majority (if not all) of our Christmas present budget on our cats.
Index
Designer cat collars and luxury cat collars:

Traditional christmas products:

Cat christmas trees:

Cat christmas cards

Cat christmas stockings:

Cat christmas decorations:

Super snuggly cat beds for christmas:

Cat gifts and toys:

Furniture for cats:

Conclusion:
Cat Christmas gifts guide:
With so many gadgets on the market tailored specifically to cats these days, choosing a gift for a cat can be a challenge.
There are a wide range of products available. From cat stockings, to cute cat christmas cards and we all know that cats' tastes can vary just as much as their owners'.
With this in mind, Waggel has found the ultimate gifts for any cat this Christmas. From cat Christmas outfits to beds and collars, we have compiled a guide for you to follow when looking for presents that will please both you and your cat!
Looking for dog Christmas gifts? Just click the link and enjoy our digital stocking of gift ideas.
Designer Cat Collars and Luxury Cat Collars: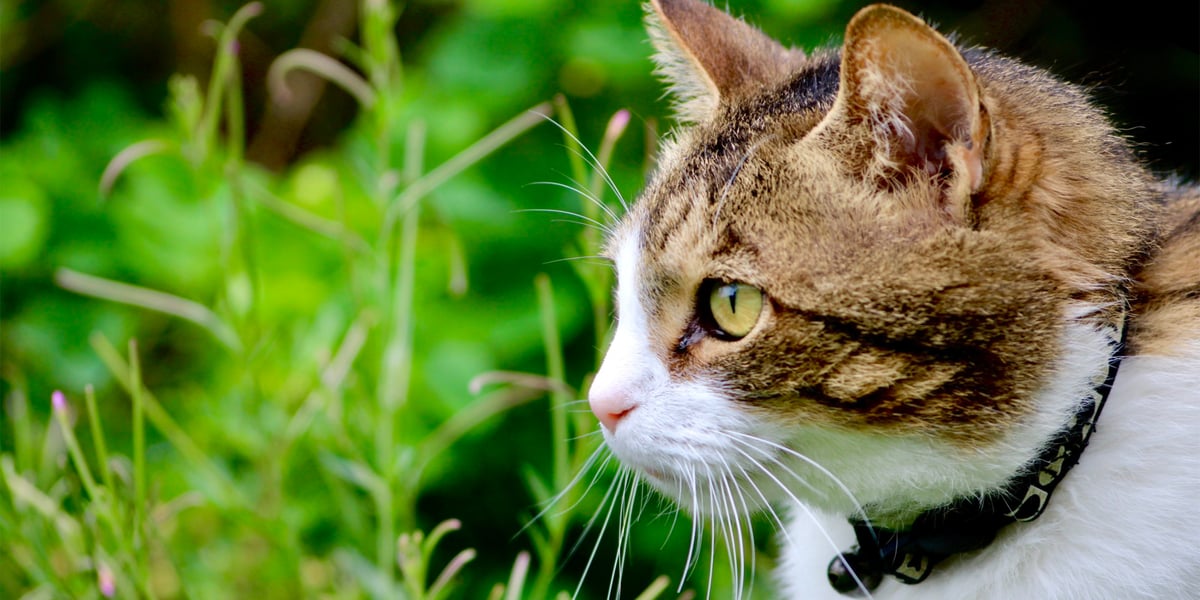 There are many designer cat collars to choose from. You can find expensive Italian brands that offer cat collars which can run into the thousands, but we've found a few top designer and luxury cat collars, which are sure to look the part, and be of high-quality.
We recommend a company called Cheshire & Wain of London. They have been making their classic luxury cat collars using the best quality materials and traditional craftsmanship.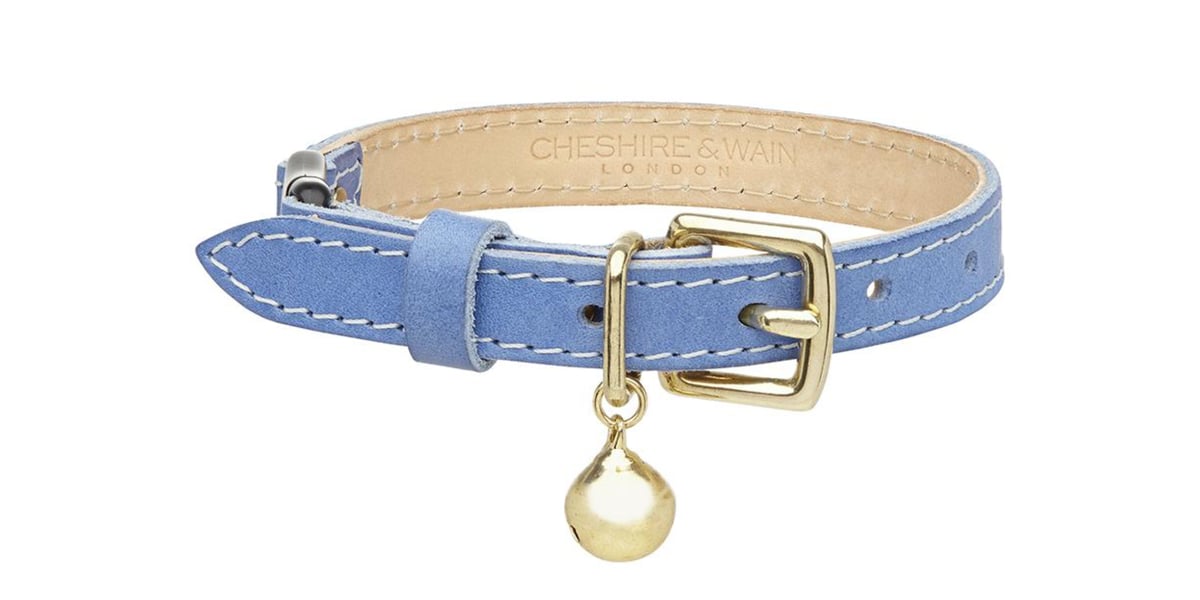 The leather is vegetable tanned in Italy, which makes it durable yet supple so it will never dry out or become stiff through use.
These are not just pet collars - they are a statement of your personality. Choose from their bold colours to suit your cat's style and traits.
Valentino Garavani Designer Cat Collar: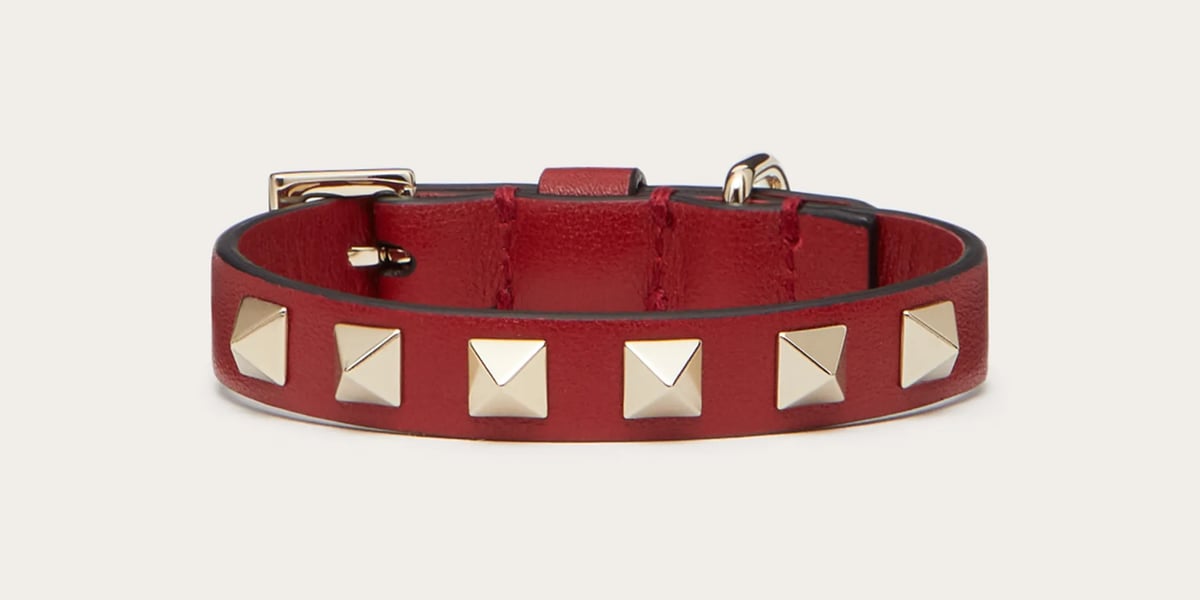 For the ultimate designer cat collar, try the Valentino Garavani's Rockstud Pet Collar . This is a luxurious and rich piece of fashion that any pet would absolutely love to wear.
This collar in calfskin leather with studs is made by the iconic designer, and is embellished with platinum-finish hardware.
It can be worn on all types of pets.
Expensive, but the height of luxury…
Personalised Cat Collars: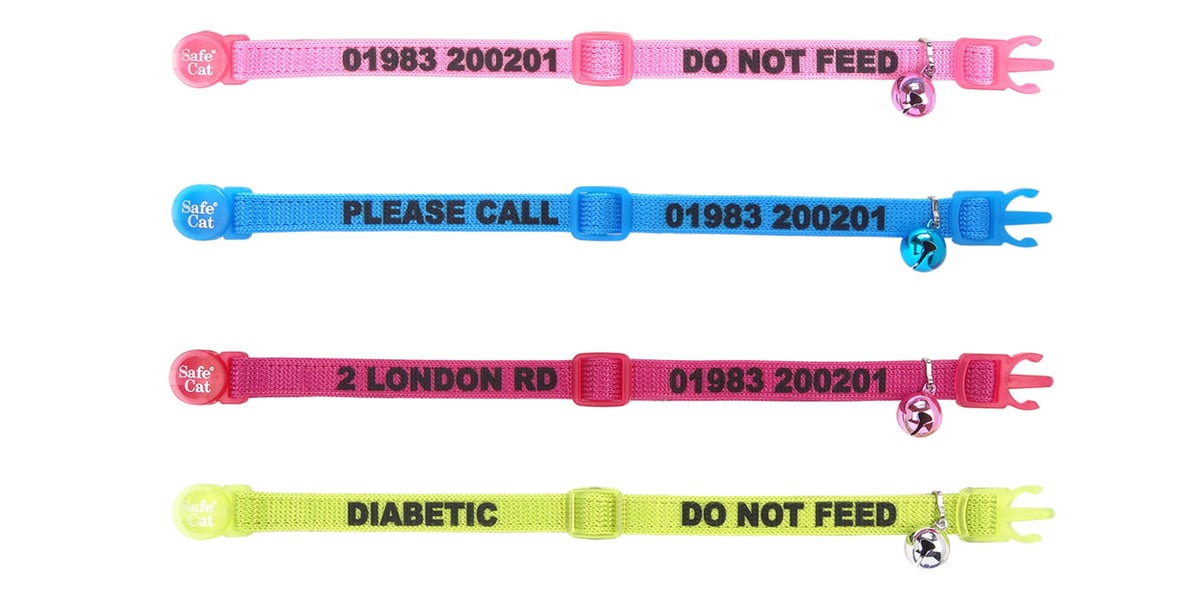 Nobody likes to lose their pet, so keep your cat safe with a personalised cat collar.
The collar can be printed with your telephone number and name in big and bold letters so that they are easy to spot!
So, don't let your little kitty get lost - take a moment now to order one of these amazing collars for any cat this Christmas!
Traditional Christmas Products:
Christmas is a time of giving and sharing with family and friends. And if you have a cat, there are plenty of options for them to get in on the merriment too.
This year, pick up some new holiday decorations like a cat Christmas tree, ornaments or a cat Christmas stocking to make your pet as happy as can be this season.
Cat Christmas Trees: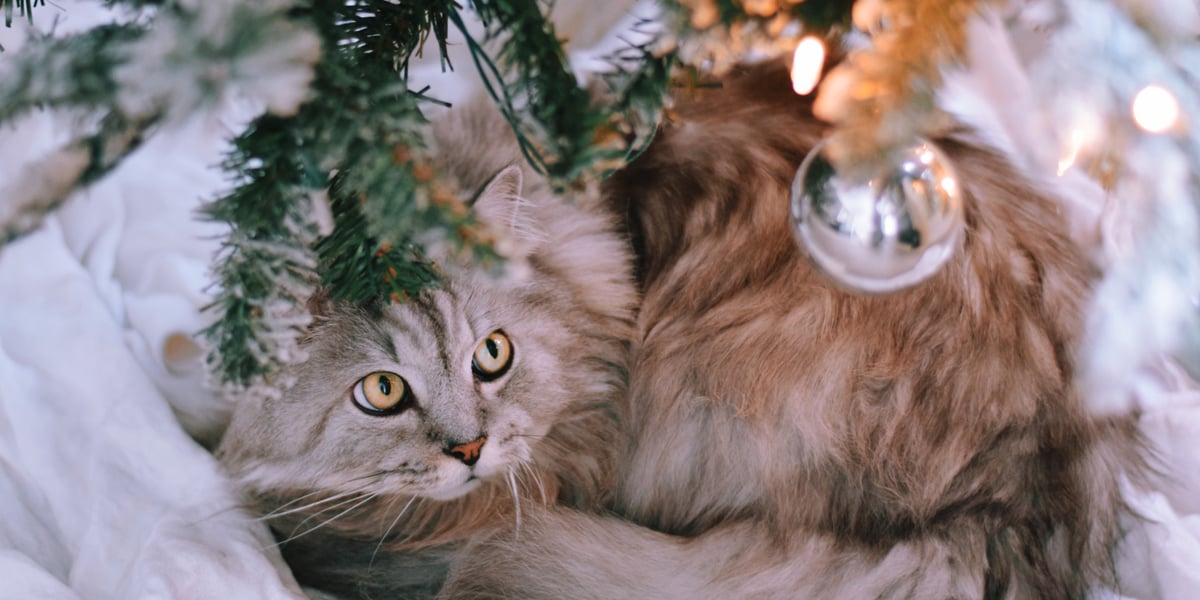 Many people have cats that are more than just pets. They are often an integral part of the family. These treasured members of the family can become destructive, especially around the holidays.
One way to curb this behaviour is with a cat Christmas tree! These are artificial trees with branches that start half way up so they are out of reach of your cat's paws. We'd recommend not getting a tree skirt either, as cats can tend to claw at these as they would with tree decorations and tree lights.
They also give them their own personal space to enjoy the holiday decorations without feeling like they need to climb or paw at them. Any cat owner will be truly happy with these cat-safe trees.
Habitat 6ft Snowy Half Christmas Tree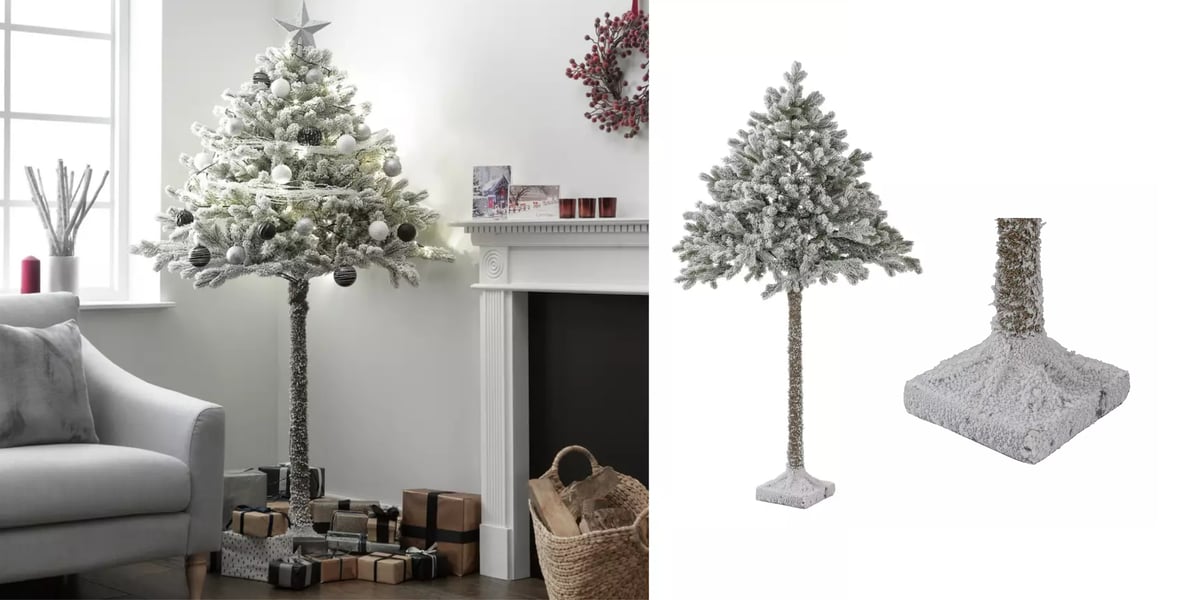 Cats can't resist a sparkly Christmas tree, but this tree may be too tall for the sneaky paws of your feline friend.
The Habitat's 6ft Snowy Half Christmas Tree is perfect for your cats because it starts well out of reach of their paws. This tree features just enough natural greenery to provide that cozy holiday feel without overwhelming your little fuzzy friends.
Cat Christmas Cards:
No matter what anyone says, you can never have too many Christmas cards.
Whether you are sending them to family members or friends, or giving them as gifts for the holidays, there's always someone you want to share your cheer with.
A great option for people who love cats is cat Christmas cards. Cat lovers will be sure to appreciate the heartfelt sentiment of these cards, and they will surely brighten their day!
CP Snowy Kitten Card: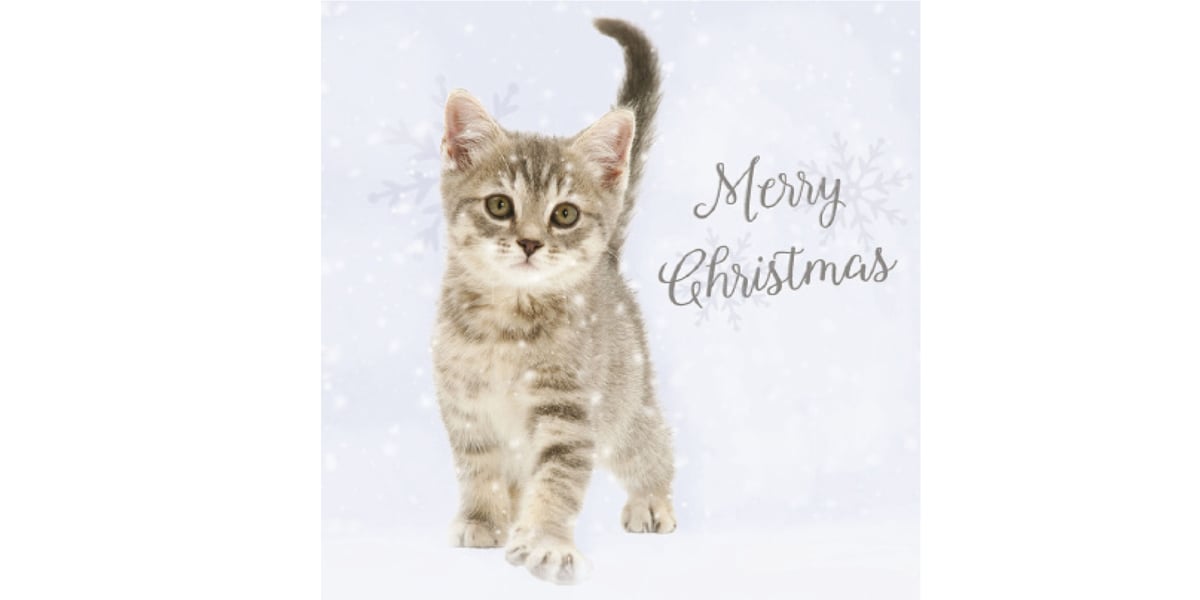 This Christmas card is a simple and sweet design, with a cute tabby kitten inside frolicking in the snow.
The cute and cuddly kitty in this card will remind you that Christmastime is the perfect time to share happiness with friends and family.
Cat Christmas Stockings: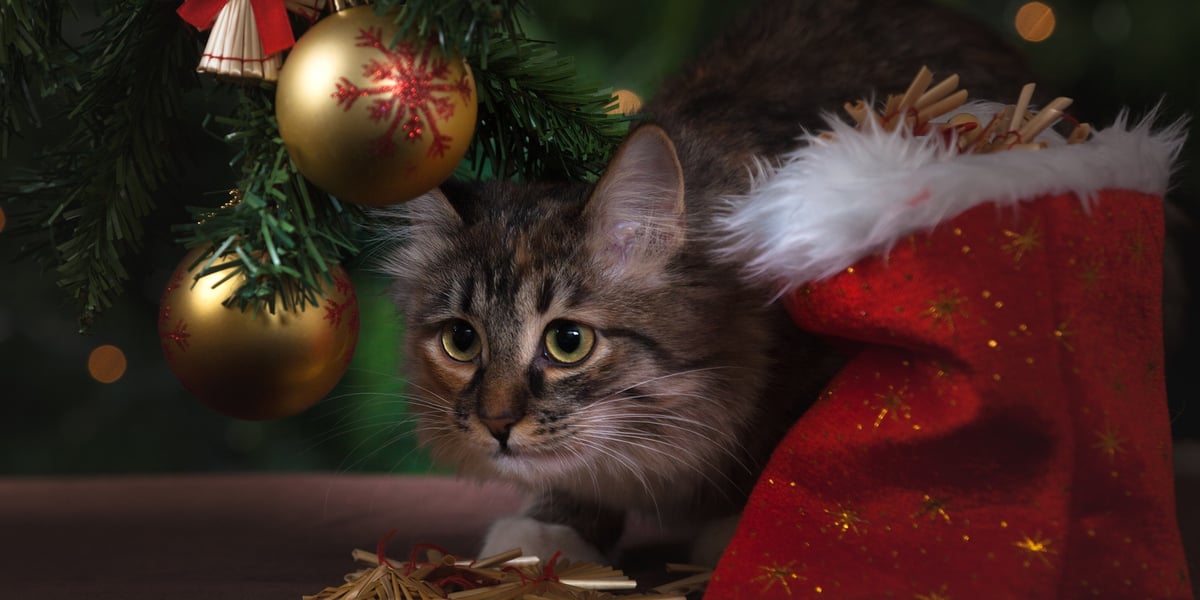 The holidays are a time to be with loved ones and while cats may not be able to talk, they still show how much they love being surrounded by the people who care for them.
All cat owners know they also enjoy treats that were made just for them!
Dreamies Cat Christmas Stocking: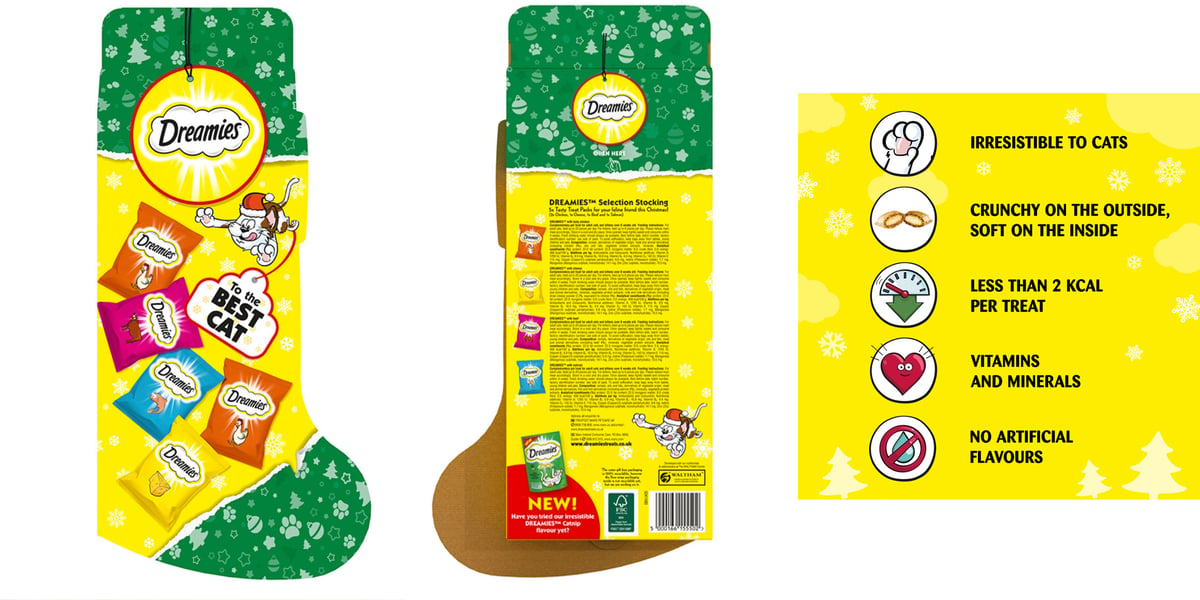 The Dreamies Christmas Cat Stocking Treats includes 5 packs of 30g crunchy cat treats in the dreamiest flavours. A perfect Christmas gift for any cat.
Pets at Home: "Your Cat's Christmas all Wrapped up" Stocking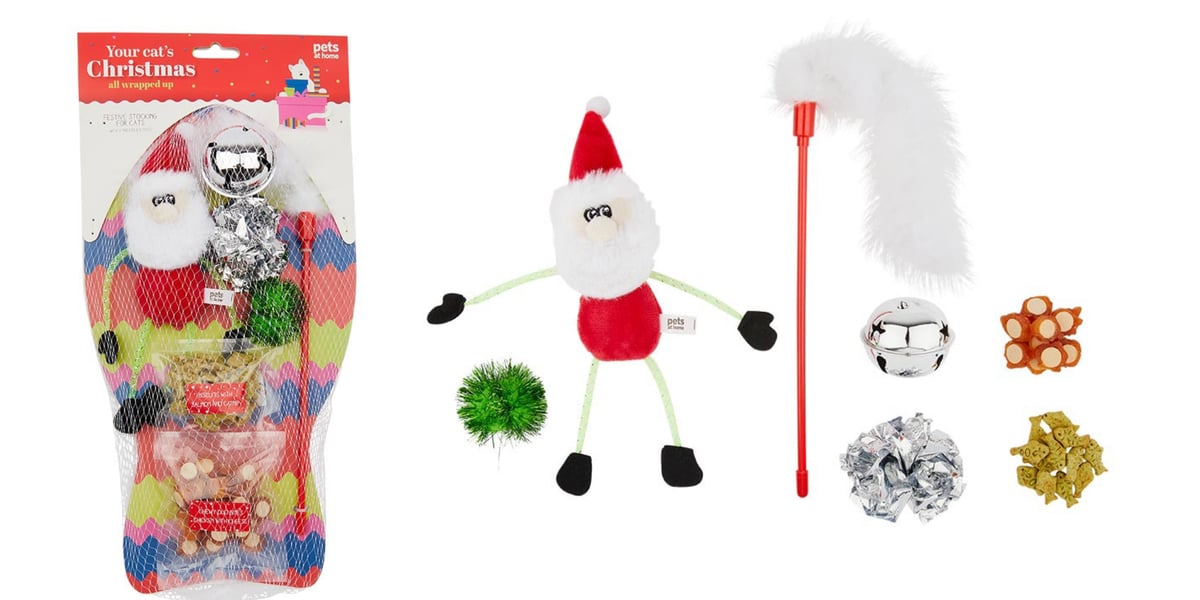 Or, want a cat Christmas stocking with toys included? Try the Pets at Home "Your Cat's Christmas All Wrapped Up" stocking for an affordable gift for yours, or others' cats.
The Cat Christmas Stocking contains:

 
1 Santa Filled with Catnip.
1 Silver Bell.
1 Silver Scrunchie Ball.
1 Green Pom Pom.
1 Feather Teaser.
Chewy Duo Bites Chicken with Cheese, 35g.
Biscuits with Salmon and Catnip, 15g.
Cat Christmas Decorations: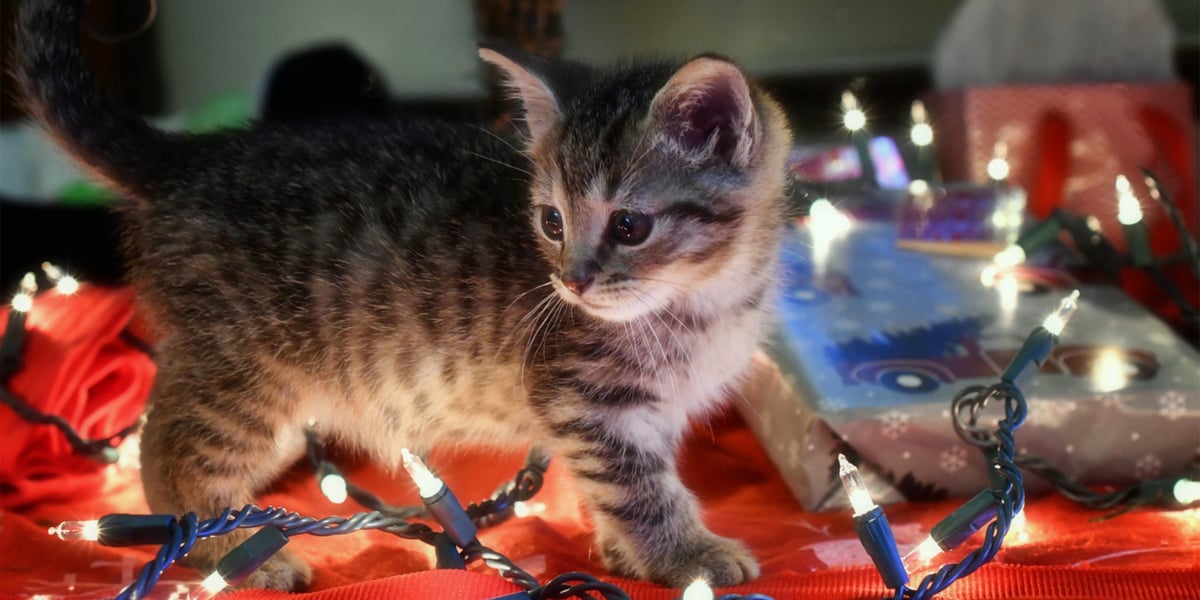 If you want to celebrate the holiday season with your feline friend, you should consider some of these creative cat Christmas decorations.
There are many different types of cat themed holiday ornaments to choose from, but here's a few that we, at Waggel, love:
White Snowflake Cat Hanging Decoration:
Are you looking for that perfect cat shaped decoration for your tree? This white snowflake cat is hand painted with intricate detail and made from ethically sourced materials in India.
The sturdy gold loop on the back allows it to be hung on any tree limb.
Rosewood Multi Toy Bauble.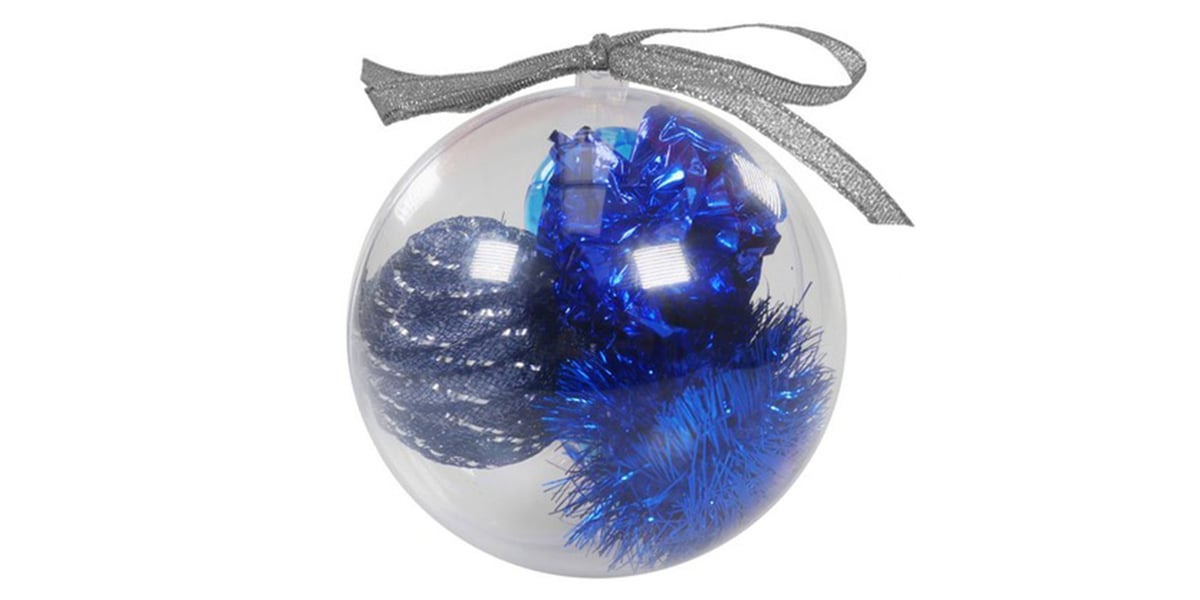 Christmas is soon here and for those of us with cats, it's time to think about the perfect gift for your furry family member. TheMulti Cat Toy Christmas Bauble is a smart and festive way to give your cat three new toys.
Super Snuggly Cat Beds For Christmas: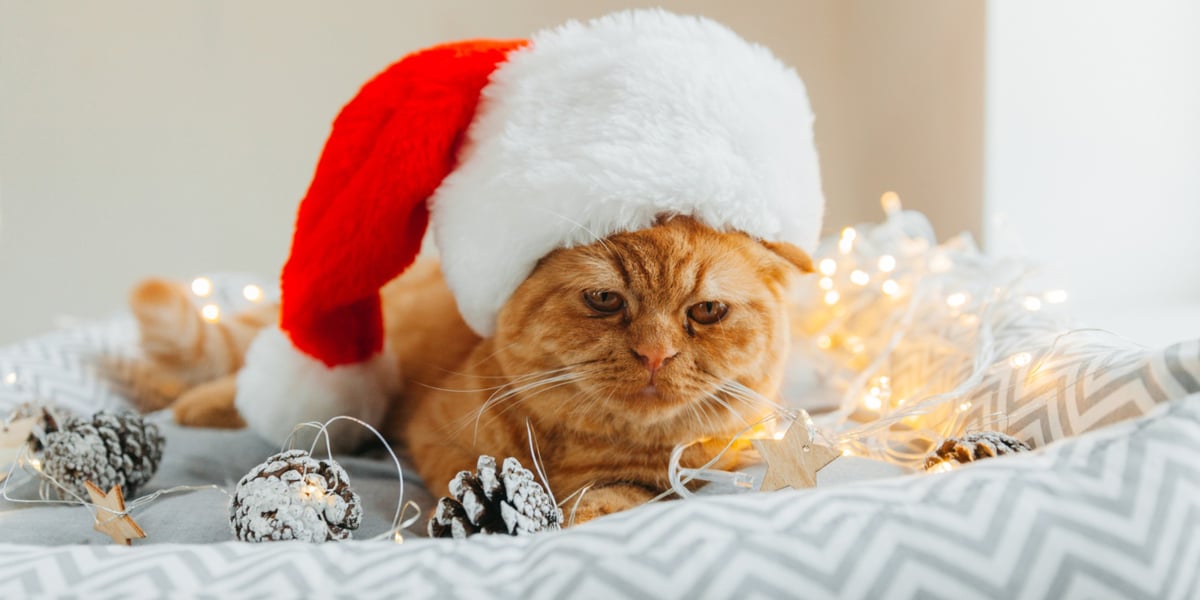 Every cat deserves a cosy bed to call their own. If you're still searching for the perfect gift for your favourite kitty, we've found some great ideas:
The quirky banana shaped bed is perfect if you want to make Christmas Eve even more special and give your kitty something extra to snuggle up in during the holiday.

The ultra cosy cat cave bed is perfect for those who want an entirely different way of giving their pet a hug this Christmas.
Banana Cat Bed: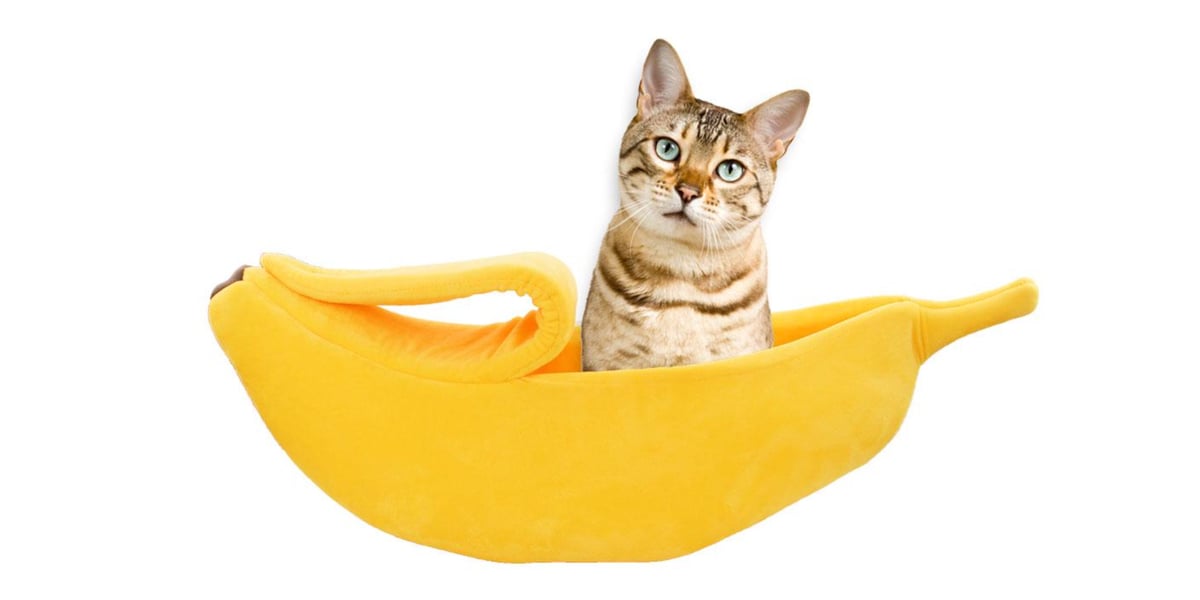 Bored of your cat's present bed? With the Banana Cat Bed , your cat will have a funny new sleep accessory to enjoy.
The Banana Cat Bed is a cute banana shape and is uniquely designed to bring joy and comfort to your snuggly cats, creating a deep sleeping spot with a feeling of safety.
This bed is perfect for any cat lover looking for a new addition to their household.
Cat Cave Bed: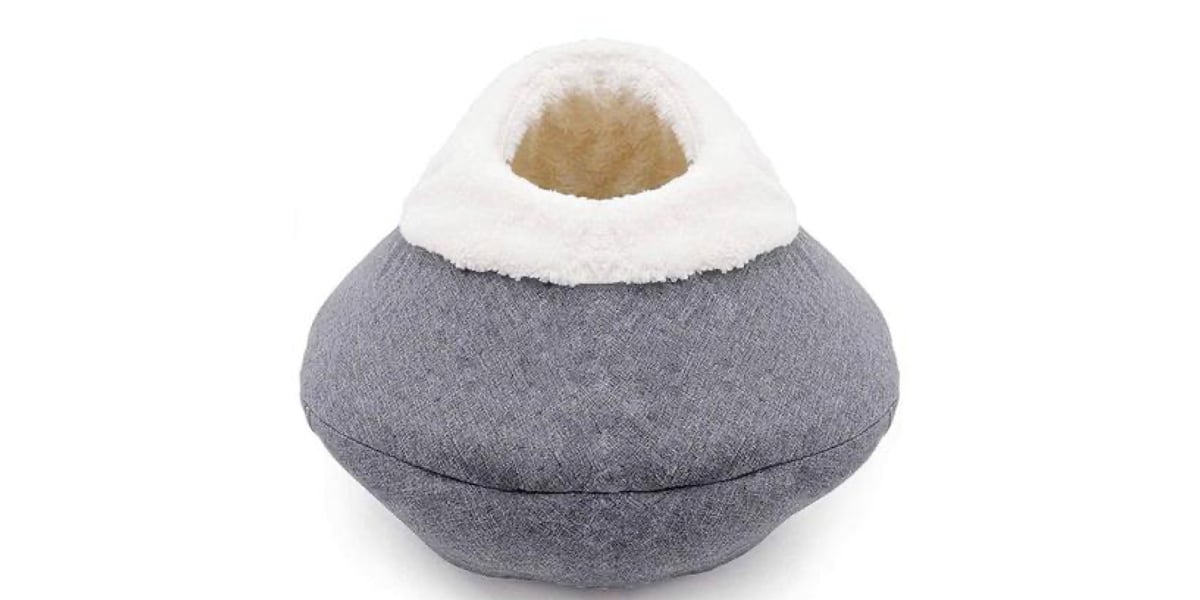 Providing your cat with a comfy cat cave bed will help them feel safe and secure in their environment. A cat cave bed provides warmth for your kitty, snuggles for them to relax in, and a place for them to call their own.
The round cosy cat cave is a cute design with a soft plush feel and non-slip bottom. It is also machine washable.
Cat Teepee Bed: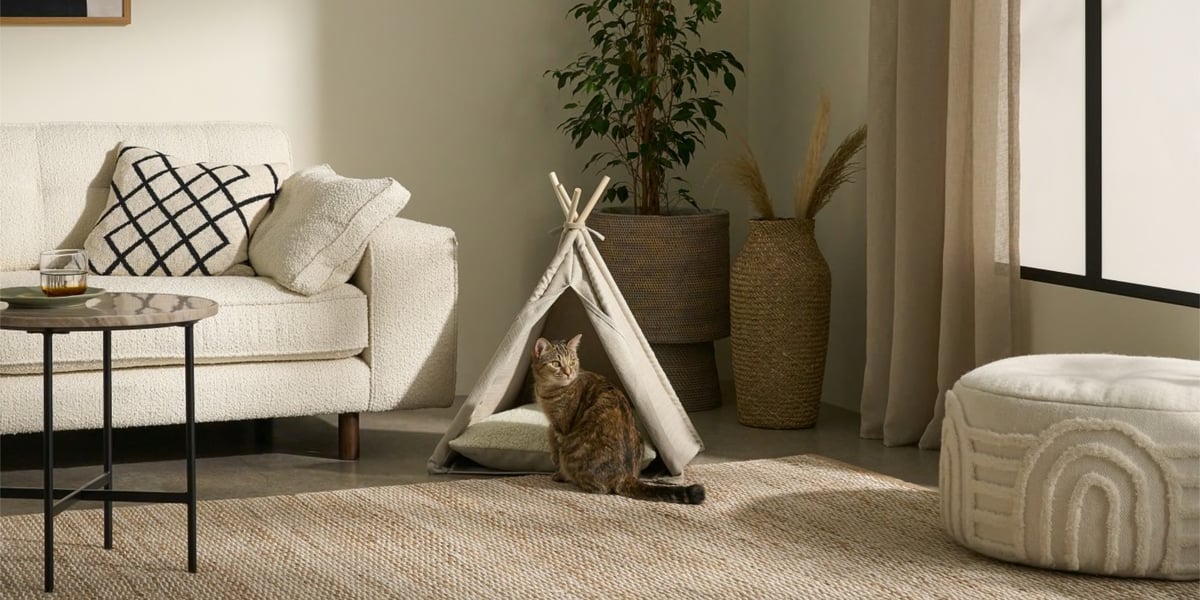 Cats are natural predators, which is why they like to sleep in the high places where they can survey their surroundings for prey.
Cat teepee beds are a cute and comfy alternative for your cat because they allow your cat to feel like they're still on top of the world, all while firmly on the ground.
More importantly, many cats will prefer to sleep in an enclosed space or up high because it gives them a sense of security.
Cats like these teepee beds because they're cosy and offer privacy - something that our furry feline friends crave.
Cat Gifts and Toys: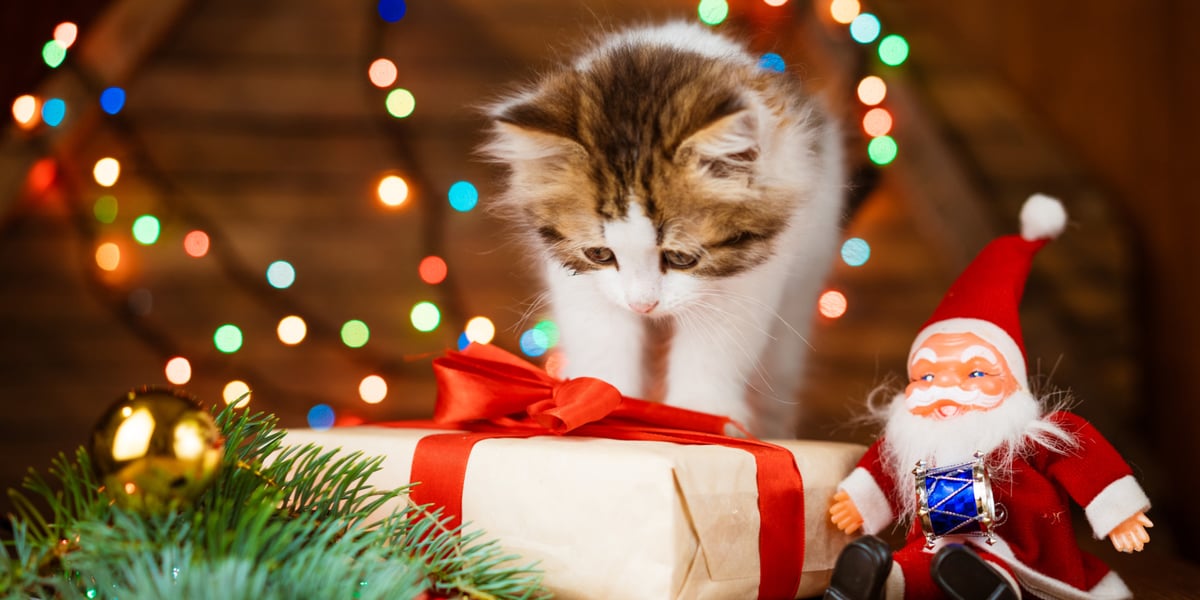 The perfect holiday gift for your feline friends is a great toy. There are many different types of toys available to choose from, so you should find one that suits your cat's personality best.
Here we have a unique few ideas for you, ideas which are sure to keep your cat entertained for hours on end this Christmas.
Cat Fish Toy: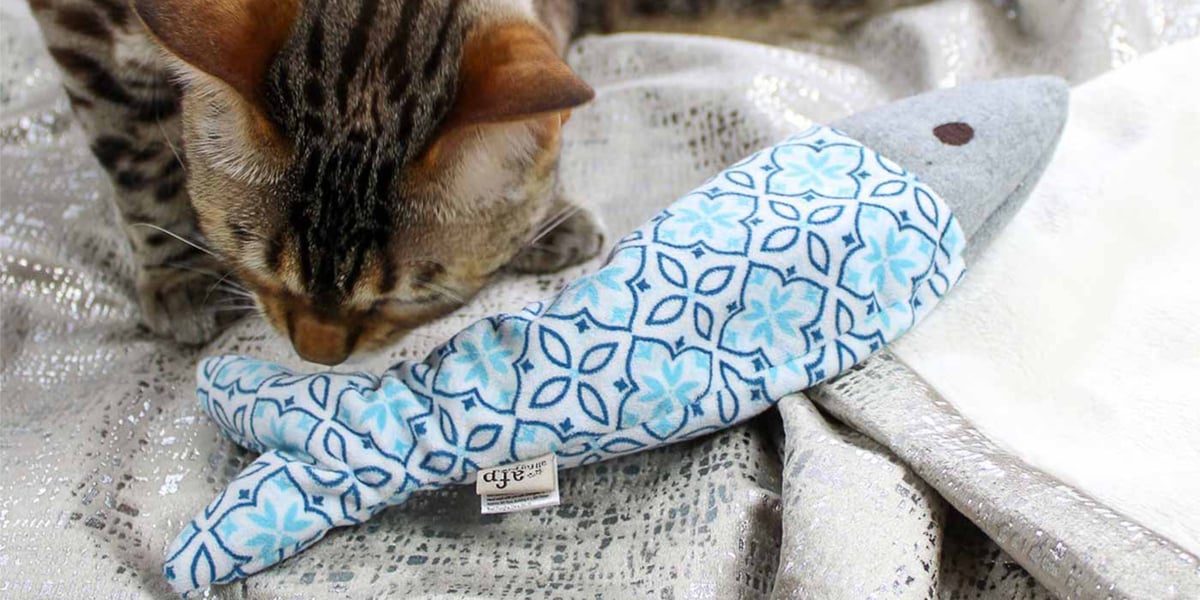 The All For Paws vintage smoked fish cat toy is a cute and fun way to provide your feline friend with constant stimulation.
The toy features a crinkle material and is filled with catnip, giving the furry friend hours of fun as they admire this soft and smoky vintage 1978 inspired home décor pattern. The perfect toy for cats who just love to play and promote their natural instincts!
Festive Cat Ball Cracker: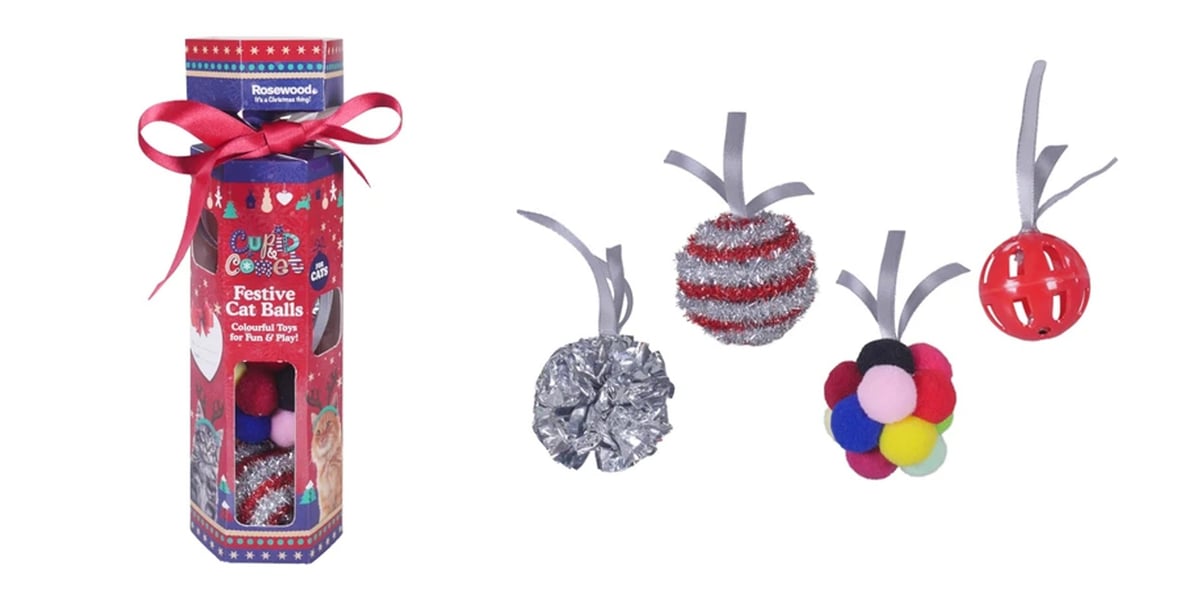 Some cats love chasing things and batting around the house, but the things they chase always seem to get away.
The Rosewood Cat Ball Cracker is a perfect gift for your cat at Christmas to give them something to bat around and may just keep them entertained for hours!
Mouse in a Teacup: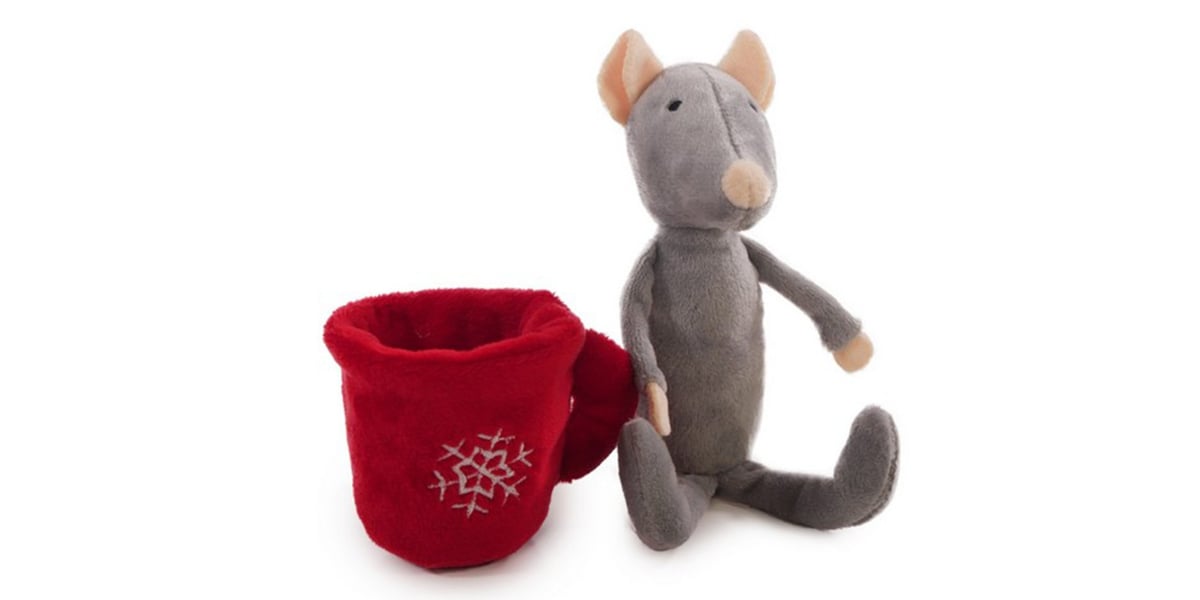 A great way to combine exercise and mealtime is by giving your cat a toy that can be attached and separated with Velcro. This gives the cat the feeling of hunting accomplishment and can be re-attached as required.
This Rosewood teacup , complete with an adorable mouse, is oh so sweet! With delightful details from nose to tail, it is sized just right for kitty paws.
The mouse with Velcro is attached to a crinkle tea cup. This toy will keep your kitty entertained as they feel the mouse through the material and try to uncover it by pawing at the velcro.
Furniture for Cats:
Cats need a place to call their own. A cat climbing frame or scratching post is an important item of furniture for any kitty's home.
These items will provide endless hours of comfort, safety and fun. They are made from various materials including wood, metal and rope and come in a variety of shapes and designs.
Cat climbing frames supply a cat's instinctive need to climb by providing a variety of heights, textures, shapes and materials for them to explore.
Cat Climbing Frame: Trixie Federico Cat Scratching Tree 
Give your four-legged friend the best in scratching, hiding, cuddling, climbing, and enjoying the view with Trixie's Federico scratching tree. 
With its all-natural sisal rope and stand it is perfect for any size or age of cat.
It also features a durable tree that will withstand hours of scratching and a sturdy post that ensures stability.
Cat Scratching Post: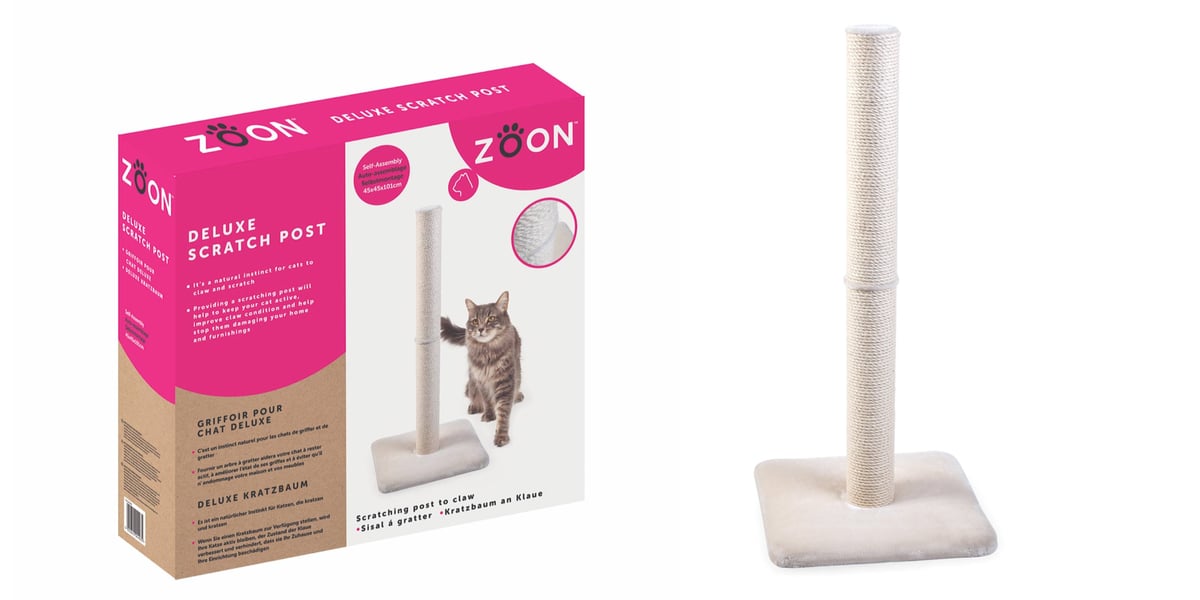 Cats deserve to be kept happy and healthy. For both your sake and theirs, it is important that you provide an outlet for their natural scratching habits.
A cat scratching post is a great way to give them the attention they need and keep them entertained and away from furniture.
The Zoon Deluxe scratch post is the perfect scratching post to keep your cat active.
Conclusion:
So there you have our long long list of gifts perfect for your cat. Get one or two, get a few…or get them all - up to you!
Members, don't forget you can enjoy some wonderful discounts on a few of these rewards, i.e. Lords and Labradors - so just log in to your account to make the most of that. And, if you aren't a member but are as green as a Christmas tree with envy at these discounts, you can join Waggel today in a matter of minutes - just get a quote.
---
Get your quote
Cover your pet, the best way
Share this blog post